Privacy Policy
Summary
We take your privacy seriously, and we're sure you do too. We understand privacy policies can look daunting so we've summarised a few of the key points below, but we'd still love you to take the time to read it in full.
We work to support conservation, not sell your data, so we only collect as much as we need to allow our website to run the best it can and to fulfill our legal obligations.

By giving us this data, you agree it may be stored and processed outside the European Economic Area and we promise to do all we can to ensure this is done securely.
While we do not currently use any cookies to track you, we suggest you read WordPress's cookie policy as the company hosts and operates this website.
We will only send you marketing information if you have agreed to it.
We may share your information with companies within our group which will not be publicly available, although we may have to pass on your details where required by law.
We will never sell your data.
---
Introduction
The Lifescape Project is the controller in respect of your personal data and is committed to protecting and respecting your privacy. This privacy policy sets out the basis on which we will process any personal data that we may collect about you as you access our website. We therefore ask you to read this privacy policy carefully so that you are fully aware of how and why we are using your data.
The information we collect about you
We may collect, process, store, and transfer the following information about you:
Information that you give us: This is information about you that you give to us by: (i) entering and using our website; (ii) filling in forms; or (iii) corresponding with us by telephone, post, email, or otherwise. This may include:

Identity Data such as your name; and
Contact Data such as your email address, phone number, and physical address.

Information that our application and other systems collect about you: When you visit our website, WordPress will automatically collect some information about you and your visit. This may include:

Technical Data such as the internet protocol (IP) address used to connect your device to the internet, your location, time zone setting, browser type and version; and
Usage Data such as information about the pages you visit and how you use our application.
If you exchange emails, telephone conversations, or other electronic communications with our employees and other staff members, our information technology systems will record details of those conversations and may also record their content.
We will only process Special Categories of Personal Data (such as information about your race or ethnicity, religious or philosophical beliefs, sex life, sexual orientation, political opinions, trade union membership, information about your health, genetic and biometric data) in limited circumstances where we have specifically informed you and where we have obtained your explicit written consent (as is applicable). We do not collect any information about criminal convictions and offences.
This application is not intended for Children and we do not knowingly collect data relating to children.
Cookies
Cookies are small files which are placed on your computer when you access a website or application. While cookies themselves do not contain or collect information, they can be read by a server to help a website deliver a more user-friendly service.
While we currently do not use cookies either directly through the website or via any plugins we have enabled at this time, we suggest that you read WordPress's cookie policy at https://en-gb.wordpress.org/about/privacy/cookies/ as the company hosts and operates this website.
To find out more on how to manage and delete cookies, visit aboutcookies.org. Restricting or disabling the use of cookies can limit the functionality of the websites or prevent it from functioning at all.
Purposes for which we use your personal data
We may use your information for the following purposes: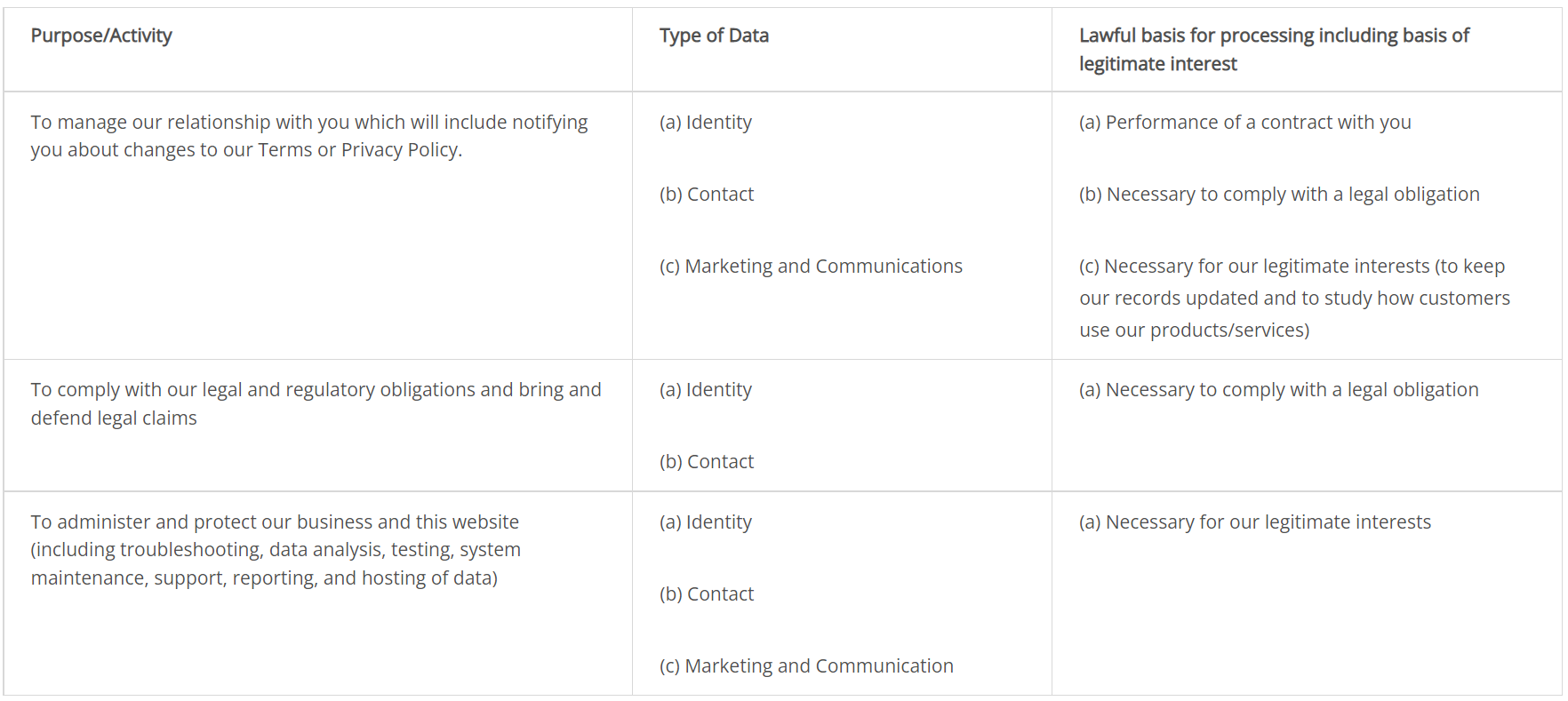 We may from time to time review information about you held in our systems – including the contents of and other information related to your email and other communications with us – for compliance and business protection purposes as described above. This may include reviews for the purposes of disclosure of information relevant to litigation and/or reviews of records relevant to internal or external regulatory or criminal investigations.
To the extent permitted by applicable law, these reviews will be conducted in a reasonable and proportionate way and approved at an appropriate level of management. They may ultimately involve disclosure of your information to governmental agencies and litigation counter-parties.
We will only use your personal data for the purposes for which we collected it unless we reasonably consider that we need to use it for another reason and that reason is compatible with the original purpose.
If we need to use your personal data for an unrelated purpose, we will notify you and we will explain the legal basis which allows us to do so.
We may also process your personal data without your knowledge or consent, in compliance with the above rules, where this is required or permitted by law.
Marketing
We may use your Identity, Contact, Technical, and Usage data to form a view on what marketing we think you may want or need, or what may be of interest to you. This is how we decide which products, services and offers may be relevant for you.
We strive to provide you with choices regarding certain personal data uses, particularly around marketing and advertising. You will only receive marketing communication from us if you have agreed to do so.
You will receive marketing communications from us if you have requested information from us and you have not opted out of receiving marketing. We will request your express opt-in consent to receive third party marketing communications before we share your personal data with any third party for marketing purposes.
Generally, we do not rely on consent as a legal basis for processing your personal data, although we will get your consent before sending third party direct marking communications to you via email or text message. You have the right to withdraw consent to marketing at any time by contacting us by using the link at the bottom of the page.
Disclosure and international transfer of your information
We may disclose your personal data about you where it is reasonably necessary for the various purposes set out above:
where applicable, to service providers who host our application or other information technology systems or otherwise hold or process your personal data on our behalf, under strict conditions of confidentiality and security;
to other parties within the Lifescape Project group
to a person who takes over our business and assets, or relevant parts of them; or
in exceptional circumstances:

to competent regulatory, prosecuting and other governmental agencies, or litigation counter-parties, in any country or territory; or
where we are required by law to disclose such personal data.
These disclosures may involve transferring your personal data overseas. If you are in the European Economic Area (the "EEA") or the UK after it has left the EEA, you should be aware that this may include transfers to countries outside the EEA / UK, which do not have similarly strict data privacy laws. In those cases, where we transfer personal data, we will do so in accordance with applicable data privacy laws, for example by ensuring that any such arrangements are governed by data transfer agreements or mechanisms, designed to ensure that your personal data is protected (including, where appropriate, under an agreement on terms approved for this purpose by the European Commission).
Third-party websites and applications
Our website may include links to third-party websites, plug-ins and applications. Clicking on those links or enabling those connections may allow third parties to collect or share data about you. We do not control these third-party websites and are not responsible for their privacy policies. When you leave our website, we encourage you to read the privacy policy of other websites and applications you visit.
Data security
We have put in place appropriate security measures to prevent your personal data from being accidentally lost, used or accessed in an unauthorised way, altered or disclosed. In addition, we limit access to your personal data to those employees, agents, contractors, and other third parties who have a business need to know. They will only process your personal data on our instructions and are subject to a duty of confidentiality.
We have put in place procedures to deal with any suspected personal data breach and will notify you and any applicable regulator of a breach where we are legally required to do so.
Retention and deletion of your information
We intend to keep your personal data accurate and up-to-date. We will delete the information that we hold about you when we no longer need it or in circumstances when you exercise your legal rights as described below.
We retain your personal data for as long as necessary for the fulfilment of the purposes for which it was collected or to which you have given your consent, except where otherwise provided for by law.
In some circumstances we will anonymise your personal data (so that it can no longer be associated with you) for research or statistical purposes, in which case we may use this information without further notice to you.
Your rights
In accordance with applicable data privacy laws, you have the right to:
Request access to the personal data that we hold about you;
Request the correction of any inaccurate personal data we hold about you;
Request the deletion of your personal;
Object to processing of your personal data;
Request the restriction of processing your personal data;
Request the transfer of your personal data (known as a "data portability" right) to you or a new service provider; and
Withdraw consent to the processing of your personal data.
If you wish to exercise any of the rights set out above, please contact us by using the link at the bottom of the page.
You have the right to lodge a complaint with the relevant supervisory authority at any time. We would, however, appreciate the chance to deal with your concerns before you approach the applicable regulator, so in the event of any concerns please contact us by using the link at the bottom of the page in the first instance.
We may need to request specific information from you to help us to confirm your identity in order to exercise your right to access your personal data (or to exercise any of your other rights). This is a security measure to ensure that personal data is not disclosed to any person who has no right to receive it.
Changes to this policy
Any changes we make to this privacy policy in the future will be posted to our website. Please inform us if there are any relevant changes to the personal data that we hold about you.
Contact us
We welcome questions, comments and requests regarding this privacy policy and our processing of personal data. Please contact us by using the link at the bottom of the page.